Hemophilia is a lifelong condition, along with medical care the patients and their families require psycho-social support and guidance for living with Hemophilia. The camps and workshops for patients, families and care givers help to build confidence, a sense of community and psychological well being. It is important for families to interact with others living with Hemophilia and or different bleeding disorders. They will learn coping strategies which could not be directly imparted by only the medical teams.
Towards this end IAHAD and its members work in close collaboration with the Hemophilia federation of India (HFI) to provide technical and specialized support and participation for educational workshops or special focus classes, either conducted with IAHAD faculty together who donate time, expertise and/ or funds.
Parents are often devastated by the diagnosis of hemophilia; they often feel guilt as this is a genetic disorder.
The fact that it is a lifelong condition and cannot be cured makes it difficult to adjust to the diagnosis.
The mission of IAHAD is to help share positive and useful information that families can use to help understand the disease, its genetics, use information wisely for the best treatment of their child and be equipped with the correct knowledge to plan for their families in the future.
Up to date information about benefits, access to care, disability bill rules, tax benefits, school and college benefits to Hemophilia families are some of the important topics discussed and moderated by IAHAD.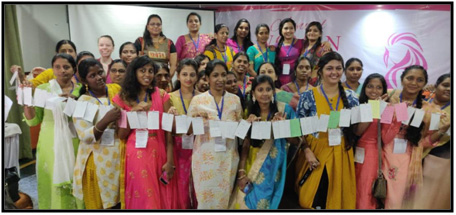 Family Camp / children's camps
Children's Workshops
Youth Camps
Women's Workshop
Family Camp / children's camps
Camps for children and parents help them gain strength knowing that they are not alone. They can understand how other families managed practical problems related to daily living, school, sports etc. The children can be themselves and have fun, under the supervision of their parents and doctors. Parents can share their stories and provide comfort and strength to each other. This friendship and camaraderie often extends beyond the camps.
Children's Workshops
These are designed to give information in simple age appropriate language to children suffering from bleeding disorder. Quizzes, painting competitions can help further strengthen knowledge and skills in a relaxed and fun environment. Self infusion of factors can be taught to older children to increase their independence and confidence.
Youth Camps
Older teenagers and young adults face many hurdles as they embark on a new chapter in their lives- leave college and start work. Questions about careers, how to cope with medical issues when living alone, what to tell friends? Or employers ? etc. are some of the many questions that they have. Youth leaders who have successfully crossed these problems are role models and can share their knowledge. IAHAD partners with both HFI and World federation of Hemophilia (WFH) to bring about meaningful interactions.
Information about genetics and family are important as these young people start the journey as young adults. What medical problems may occur and how to reduce their risk as they get older are further required information.
Women's Workshop
This is very important particularly in the Indian context where many women have been abandoned by their families and face stigma due to the lack of awareness about bleeding disorders in our country. This is tailored for women, carriers of Hemophilia, vWD or other bleeding disorders. Important genetics information is provided in language that they can understand so that they can make decisions about their reproduction, how to manage any bleeding problems, as well as how to access care for their children are important topics covered during this workshop. Women from all over the country get together to share their stories, inspire and support each other. Even international experts with experience on women's issues can be introduced to deliver meaningful and useful messages and strategies.