National Haemophilia Care Meeting (NHCM) is a unique forum which aims to bring together key personnel involved in organizational aspects of health care in the States to meet and discuss organization of care for people with bleeding disorders including haemophilia and develop strategies for optimal utilization of resources allocated for haemophilia care.
NHCM includes personnel representing the Health Ministry in the States viz. Health Secretary, Director Medical Education, Director Health Services, National Heath Mission (NHM) coordinators, Nodal officers for specific programs amongst other important stakeholders involved in haemophilia care in the State.
The NHCM was initiated in 2013 and was conducted in subsequent years in 2014 and 2015 by CMC, Vellore; Maulana Azad Medical College, New Delhi & Hemophilia Federation of India (HFI). These meetings provided a platform to stimulate discussions on the burden of haemophilia in India, core aspects of organizing haemophilia care, overview of the core medical aspects of care viz. appropriate diagnostic facilities, adequate therapeutic products, system for their delivery, documentation of utilization and outcomes. Various Presentations on State Government or Central Government Programs also featured during this program as a best practice sharing session.
The NHCM meeting in 2017 was organized by then constituted Indian Hemophilia & Allied Disorders Group (IHADG). From August 2019, the group has been registered as a Society and is now known as Indian Association for Haemophilia and Allied Disorders (IAHAD).
NHCM 2023
The 8th NHCM 2023 took place on the 17th and 18th of November 2023 in Bengaluru, as an in- person event.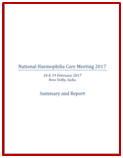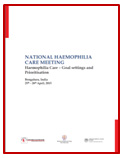 National Haemophilia Care Meeting
Haemophilia Care – Goal settings and Prioritisation
25th - 26th April, 2015
New Delhi, India
Click here to read the report
National Haemophilia Care Meeting
Improving Haemophilia Care Through Awareness, Education and Advocacy
5th - 6th April, 2014
New Delhi, India
Click here to read the report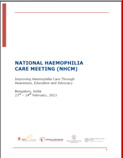 National Haemophilia Care Meeting
Improving Haemophilia Care Through Awareness, Education and Advocacy
23rd – 24th February, 2013
Bengaluru, India
Click here to read the report